Mark continues to inspire us with his prophetic writings regarding these times we live is. This all fits in with the Events of Garabandal and the coming "Warning", Miracle & "Great Sign"! We are blessed that he allows me to post his articles here: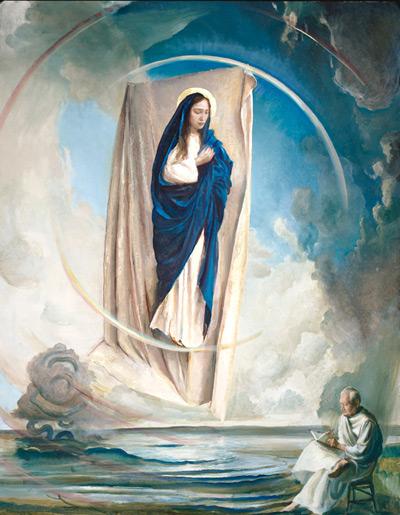 The Woman Clothed with the Sun, by John Collier
REVELATION Chapters 12 & 13 are so rich in symbolism, so expansive in meaning, that one could write books examining several angles. But here, I want to speak about these chapters with regard to modern times and the view of the Holy Fathers that these particular Scriptures bear an importance and relevance to our day. (If you are not familiar with these two chapters, it would be worth a quick refreshing of their contents.)
As I pointed out in my book The Final Confrontation, Our Lady of Guadalupe appeared in the 16th century in the midst of a culture of death, the Aztec culture of human sacrifice. Her apparition resulted in the conversion of millions to the Catholic faith, essentially crushing beneath her heel the "state" driven slaughter of the innocents. That apparition was a microcosm and sign of what was coming to the world and is now culminating in our times: a state driven culture of death that has spread world-wide.
PUBLISHED IN: | ON NOVEMBER 24TH, 2010 |